Gas Stations in Iceland – A Complete Guide on Everything You Need to Know
Visiting Iceland is amazing. Until you rent a car to drive around the country and the gas stations have you scratching your head. Gas stations in Iceland can be a bit strange to Americans who are used to the typical convenience store and self-service. That's why we put together this guide so you can be prepared when you visit Iceland. 
There are four different fuel companies that you will find in Iceland, differentiated based on color: the red and white company (N1), the green and yellow companies (Olis and OB), the white and pink company (Orkan), and the blue and red company (AO). The majority of the gas stations are by N1. While all of these gas stations dispense fuel and diesel, some of them are also coffee shops, grocery stores, liquor stores, and souvenir shops. Without further ado, let's get started!

How to actually get gas in Iceland
Gas stations in Iceland are some of the strangest things in the country. Many travelers have been warned against them, but that does not mean that you can't figure it out.
Pumping fuel at self-service stations
If you are a US citizen, self-serve gas stations are normal, but they may stump visitors from other countries. Keep in mind your fuel type when filling gas. Rental cars in Iceland either take diesel or petrol, so be very mindful of the kind of fuel you are filling in your car. The wrong fuel will shut down your car mid-way and ruin your trip (and leave your rental car service very unhappy).
In Iceland, the gasoline/petrol pump handle is green and the diesel pump handle is black. This can be a bit confusing for Americans since the green handle is diesel in the US. 
After selecting the correct pump, you can pay with your debit or credit card, preferably one with a pin. Then, you tell the machine which pump is yours. Finally, open the gas tank and pull the lever to fill with the gas. 
Payment Systems at Gas stations
Not all kinds of cards are accepted at the fuel stations. Of course, full-service stations accept all kinds of debit and credit cards. The smaller stations, however, only accept cards with a security pin. Some American credit cards do not come with a pin number, so they won't work at these gas stations. Before you travel, make sure to contact your bank and memorize the pin of your credit card. 
If you only have cash on hand, buy a gas card at the beginning of the trip to avoid getting stuck in a bad position. Prepaid cards are available at supermarkets and N1 gas stations. Do this regardless, it's great to have a gas card in a pinch. 
High Fuel Prices
Since Iceland is an island, the gas prices in this country are astronomical.
You must have ever heard about this fact before, and it is no myth. Plus, krona (Iceland's currency) is a strong currency in the market, which is why transporting gas in the middle of the sea has a cost that impacts you. When you are filling your car in Iceland, you can expect to pay anywhere between $7 – 8 USD (868 – 992 ISK) for a gallon of gas. This means that filling up your small car might cost you  $90-$100 or roughly 10,000 Icelandic Kroner, which is a lot.

This is why, whenever you are planning a road trip across Iceland, make some budget for gas. Keep in mind that gas in Iceland is expensive and make your travel budget accordingly. Also a hot tip, we converted these numbers to gallons but in Iceland, they fuel up by liters so if you are confused when filling up for the first time this is why.
Gas station Discount Programs
Fuel in Iceland is pretty expensive, which is why there are fuel discount cards in Iceland to help you save money. When you go to a car rental company to pick up your car, the odds are that they have already partnered with a fuel company for a fuel discount card. These are the most popular discount cards:
1. Olís discount card
One of the largest gas companies, Olís, provides discount cards at every gas station. They have fantastic offers. You can get free coffee, free WI-FI, 3 ISK (0.024 USD) of discount every liter of petrol, along with a 10% discount at their restaurants. 
2. N1 Prepaid card
While this is not a traditional discount card, the N1 Prepaid card will save you from unexpected expenses.
Sometimes fuel stations charge  25.000 ISK (200 USD) as an on-hold expense from your credit card. The best way to avoid similar charges is to opt for one of the three different prepaid cards: 3.000 ISK, 5.000 ISK, and 10.000 ISK. These cards can be used for fuel, food, or equipment at N1 stores across the country.
Gas station brands
When you are traveling in Iceland, you will come across many gas station brands all around the country. Some, like N1, are obviously more popular ones, while others you will only see occasionally.
N1 Gas Stations
N1 is the most popular chain of fuel stations in Iceland. They are everywhere, from big cities to smaller rural areas. N1 gas stations are a great savior if you are visiting towns that are really far away from the main areas. They are operational 24/7, but, you might not find employees always there. So, make sure you have a card with a pin so that you can fill the gas at any hour of the day.
Olis Gas Stations
One of the most popular fuel stations in Iceland, Olis gas stations is mostly around Ring Road and the Westfjords. While N1 gas stations are locally owned and operated, Olis is a bigger national brand with grocery stores and other convenience stores located within the gas stations.

Olis also owns the trademark for Quiznos and Grill 66 restaurants in Iceland.
Orkan Gas Stations
Orkan has 56 automatic fuel stations in Iceland. Their self-service stations are open 24/7, so you can rely on them when low on fuel at night.
Costco Gas Stations
Costco is the American newcomer among gas stations in the country. It's a recent addition in Iceland but offers some of the best gas prices in the country.
The con, however, is that you have to be a  ​​Costco member in order to use their gas stations. If you are an American, the odds are you are already a member. The membership works in Iceland too!
However, there is only one Costco in Iceland and it is in the Reykjavik area. So, if you pass by this area make sure to fill your tank up every time to save on high fuel costs. With Costco's surge in popularity, more locations may open up in the near future.
Hot tip: Costco in Iceland is a GREAT way to save on food expenses when traveling in this country too.
Food at gas stations in Iceland
Even though the country lacks basic infrastructure, their gas stations are a different breed altogether. Eating food at gas stations in Iceland is totally a thing.
For those of us from abroad, we may associate gas stations with food poisoning and over-processed food. But in Iceland, people rave about the hot dogs and burgers from gas stations. Some fuel stations even have proper restaurants with a menu where you can sit down!
Common offerings are Icelandic soups, burgers, and hot dogs, as well as coffee and pastries for breakfast. Hot dogs are the most popular gas station food, only costing $3, and are a great go-to snack. Most of the gas stations have unlimited coffee refills, in case you need that pick-me-up for a long road trip across the country. Some gas stations in Iceland have international chain restaurants like Subway and Quizno's.
Grill 66 at Olis stations is a popular American-style food chain. They have a full menu and a sit-down restaurant where you can get a burger and fries for around USD 14. For that price, you will also get a free coffee and a ton of add-ons, Icelandic style.
Grocery and liquor stores
Iceland's gas stations also double up as grocery and liquor stores. Since Iceland lacks infrastructure in remote parts of the country, these gas stations are a life-saver for the average traveler.
Not all gas stations are the same, however. Keep an eye out for the big gas stations with a lot more grocery options. You can find items like noodles, coffee, drinks, ready-to-eat meals, and even hardware items like fishing gear and camping gear available. They are great places to shop in case you are running out of snacks on your road trip. 
Unfortunately, the grocery stores don't open 24/7 because there aren't that many customers. Most of them are open only a few days a week from 10 am-11 am until 7 pm. Make sure to stock up on your groceries and snacks because chances are the stores will be closed the next time you visit. 
Reasonable Prices
Unlike many other facilities that cater to tourists in Iceland, the grocery stores are extremely affordable in comparison. While gas, liquor, accommodations, and dining out might drain your pocket, grocery stores will save you from making a lot of expensive purchases. For example, chips cost $2 USD on average, and bread cost $3. You can expect prices comparable to or lower than US grocery stores.
Even if you can't cook to save your life, the large grocery stores have bakeries and ready-to-eat items. Some of the best are pizza bread (around USD $1.50) and kanilsnúðar cinnamon buns (around USD $3). For a proper meal,  'Nice n' Easy' frozen dishes (USD $2) are affordable quick fixes. They are not the fanciest meals in Iceland, but they do the trick when you're on the move and a budget. The stores also offer lots of housemade takeaway meals like wraps, pizzas, plates of chicken, and vegetables.
Bonus supermarkets are one of the best franchises in Iceland. They are located near Reykjavik and its surrounding area, with a few outlets in West Iceland. They are popular because of their affordability.
Grocery Stores in Remote Regions
Another important point to note is that not all grocery stores are equal. Try to finish the majority of your shopping in Reykjavik and pick only small snacks from the smaller grocery stores across the country. Smaller towns' grocery stores are no bigger than a typical gas station convenience store. They don't offer much variety.
However, even though smaller grocery stores won't have a lot of brands and variety, most of them offer fresh produce, frozen goods, and dry foods. Iceland has a lot of remote areas, so you can just follow what the locals eat. 
Car Washes
Here comes the best part. Iceland has free car wash facilities at many gas stations. This is unheard of in most places in the world!
This is a nice opportunity to clean up your muddy car because it will get pretty dirty throughout your road trip through the rural countryside. During rainy and snowy seasons in Iceland, sometimes cars can get so muddy that it gets tough to see through the windows. Not all gas stations will offer this service, so when you see one you should take advantage of it.
These car wash bays work with one car at a time, so you may have to wait a while until it's your turn. Just don't try to squeeze two cars in at once, the other driver will end up getting wet and they will not be very happy about it. 
Gas Station Iceland Map
This gas station Iceland map will help you to find gas stations in the country easily. As you can see, the fuel stations in Iceland are few and far in between. So, whenever you see gas stations in Iceland make sure to fill up your tank every time. A nice rule of thumb is I always try to keep 3/4ths to 1/2 tank full at all times. You never know when that Icelandic snowstorm could hit ;).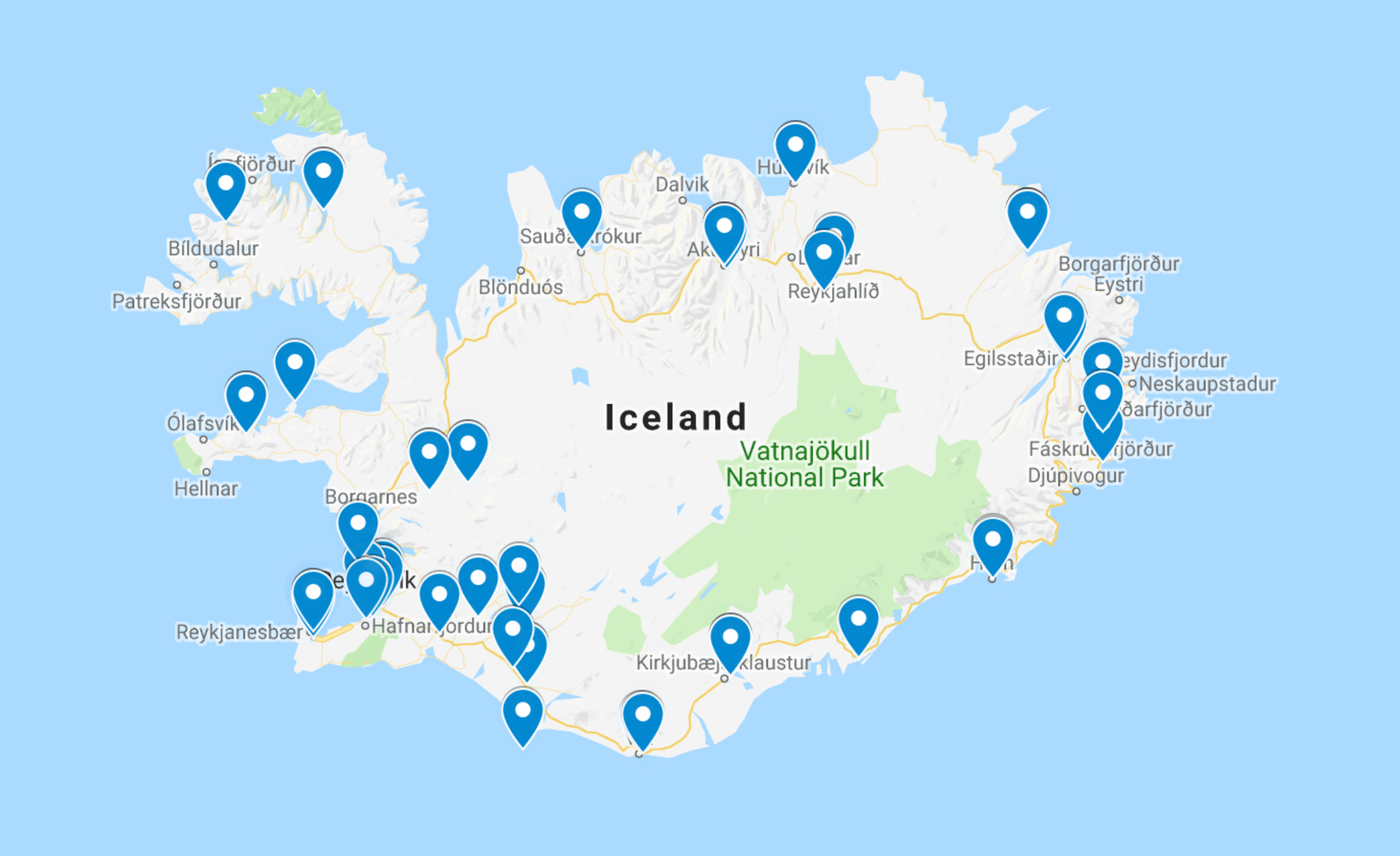 Source: https://www.mysuitcasejourneys.com/visiting-iceland-in-september/iceland-gas-stations/